XP Music Futures Announces their Annual DJ Competition "Storm Shaker" to Discover the Next Hidden Gem in the MENA Region
Riyadh, August 9, 2023: XP Music Futures, the leading annual music conference in the MENA region, is thrilled to present "Storm Shaker," an electrifying DJ competition designed to unearth the region's most exceptional talent. With the coveted prize of a lifetime – the opportunity to perform at MDLBEAST's prestigious SOUNDSTORM festival – aspiring DJs are invited to showcase their skills and achieve their dreams.
In search of that one electrifying talent with an unparalleled ability to move people, the competition aims to give emerging DJs a platform to shine and break into the global music scene. Last year's winner, Joj, had these words about her experience in 2022: "Give your dreams all you've got, it's not enough to be talented, you need to hustle to be the winner. It was a pleasurable experience to sway people to my sound, to many more dancefloors to come."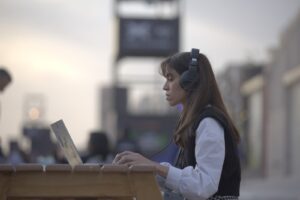 The competition welcomes DJs from across the MENA region to submit their mixes, showcasing their signature sound. A panel of esteemed judges, including industry veterans, top DJs, and producers, will evaluate each submission based on creativity, technical prowess, originality, and audience engagement.
"The local scene is growing every day, and one of the biggest growth factors is that more talent is rising to the challenge of performing in public," said Matt Dicks, MDLBEAST's Executive Director of Music & Talent. "Storm Shaker is a way for us to tap into fresh talent, encourage future artists, and grow our scene year after year."
The grand prize for the ultimate Storm Shaker champion is unparalleled – the chance to perform live at SOUNDSTORM, playing to thousands of festival goers and sharing the stage with some of the biggest names in the industry. Last year's festival saw artists like Bruno Mars, DJ Khaled, and Post Malone take centre stage, with over 600,000 fans attending the three-day event. In addition, we are thrilled to announce that the initiative will be supported by Berklee Abu Dhabi as well as DJ Corner & Pangaia, who will each add prizes to the winner of the competition.
The submission period for Storm Shaker is now open, with aspiring DJs encouraged to showcase their talent by submitting their mixes through this link. Submissions close on August 24th. Don't miss this extraordinary opportunity to be part of the next big wave in electronic music!