ENGIE Program for Training and Hiring Saudi Women Awarded the 'Talent Development Programme of the Year 
ENGIE launched the program in collaboration with HIWPT to train and hire 15 young Saudi women in the field of reverse osmosis water desalination 
Riyadh, the Kingdom of Saudi Arabia, March 14, 2023: ENGIE, the global reverence in low-carbon energy, has awarded the 'Talent Development Program of the Year' from the Oil & Gas Middle East magazine for training and hiring 15 Saudi women in the field of reverse osmosis water desalination.
During the annual awards ceremony held in Dubai, ENGIE was proclaimed the winner for its program launched in November 2022 in collaboration with the Higher Institute for Water and Power Technologies (HIWPT) to offer hands-on training and hiring in reverse osmosis desalination exclusively for Saudi women.
Speaking at the awards ceremony, Turki Alshehri, CEO of ENGIE in KSA, said, "Investing in youth is a strategic priority for us at ENGIE. We are pleased to see the program we launched with the HIWPT receiving such recognition".
Upon completing, the two-year program will provide 15 Saudi female trainees with hiring opportunities as full-time Plant Operations Technicians at ENGIE's Saudi-based, RO Yanbu 4 and Jubail 3B plants.
"This recognition reaffirms ENGIE's commitment to achieving greater gender diversity in our cadres and human talents to fulfil our vision to have 50% of the managerial positions at ENGIE and its affiliated companies filled by women by 2030. I would like to congratulate everyone contributed to this achievement," Alshehri said. 
"As the first of its kind in the Kingdom of Saudi Arabia, the program comes in line with the Saudi Vision 2030, which has set among its priorities the empowerment of Saudi women, opening prospects for learning and work for them, increasing women's participation in the labor market and developing their personal and technical skills," he stressed.
Tariq Alshamrani, CEO of HIWPT, said, "We are pleased to partner with ENGIE on this project and to see the results of our projects being recognized by Oil and Gas Middle East magazine, a leading reference in the field".
"Female empowerment is pivotal to the achievement of our nation's objectives. We will continue to look at initiatives that push the envelope in youth development," Alshamrani added.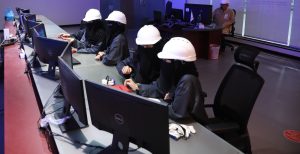 In the two-stage program, the trainees will learn about scientific concepts and engineering principles throughout the first phase. The second phase will provide vocational training at ENGIE's RO Yanbu 4 and Jubail 3B plants.