Jeddah – July 2023 : Starbucks® has reached a new milestone with the opening of its 400th store in the Kingdom of Saudi Arabia. This new store in Jeddah increases Starbucks® presence within a flourishing local coffee culture, and has already been met with an enthusiastic response from coffee lovers – who can enjoy the complete Starbucks® Experience from bean to cup.
Ever since its debut in the Kingdom in 2000, Starbucks® has been committed to serving and connecting with the local communities. In line with Saudi Vision 2030, the company has been investing heavily in its partners (employees) and in new stores, including the first Starbucks Reserve® store opening in Jeddah on May 4th 2023. Starbucks® growth plans reinforce its commitment to being the preferred choice for all coffee lovers in the Kingdom and seeks to keep building on its growth momentum in the region. In January this year, the Saudi Ministry of Culture also recognised Starbucks® as a key contributor to the success of the 2022 Year of Saudi Coffee.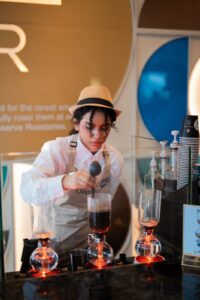 Nationalisation, empowerment and increased diversity of women in the workplace are at the heart of Starbucks® regional recruitment plan. Through an active recruitment agenda, over half of Starbucks® workforce is local talent and female, including its first all-female run Drive Thru in Saudi which opened in June 2022. This is an ongoing effort, working with the Saudi government to support the broader nationalisation agenda.
Andy Holmes, President of Starbucks – Alshaya Group, said: "We are proud to mark the opening of 400 Starbucks stores in the Kingdom, which would not have been possible without the hard work of our partners (employees) and the support of the local communities we proudly serve. Reaching this milestone is a testament to our unmatched coffee expertise, commitment to bringing bold new beverage innovations to Arab coffee lovers and evolving our dynamic store concepts to meet our customers' needs where they are. We have big ambitions to continue our accelerated growth in the Middle East, and this will be driven primarily through our ongoing investment in the recruitment, development and empowerment of young national talent."
When it comes to store designs, Starbucks® is always invested in creating unique and inviting spaces for customers to connect and enjoy their favourite beverages and food. Starbucks® stores are distinctive, featuring brighter colours, dynamic material palettes, modern artwork and harmonious lighting. Its store aesthetic is constantly evolving, leading the way in store design and innovative new store concepts. 
Starbucks® 400th store opening milestone was celebrated at an event in Starbucks® Jeddah Park Reserve store on Monday July 10th. This is the first Starbucks® Reserve store to open in Jeddah, joining an exclusive number of Reserve stores in the Kingdom, such as the iconic Riyadh Boulevard Starbucks. Reserve offers coffee connoisseurs a bespoke coffee craft experience, with baristas displaying their coffee craft and expertise through an array of coffee brewing methods, infusing coffee into surprising beverage creations with rare and extraordinary coffee beans. 
Starbucks® mission captures its commitment to local communities: with every cup, with every conversation, with every community – we nurture the limitless possibilities of human connection. 
The Jeddah Park store will exclusively have our newest, most innovative beverage – Oleato ™. Launched in May in Saudi Arabia, Dubai and Kuwait, this alchemy of Partanna ™ extra virgin olive oil and arabica coffee is sure to delight customers in Jeddah with its lush velvety texture.